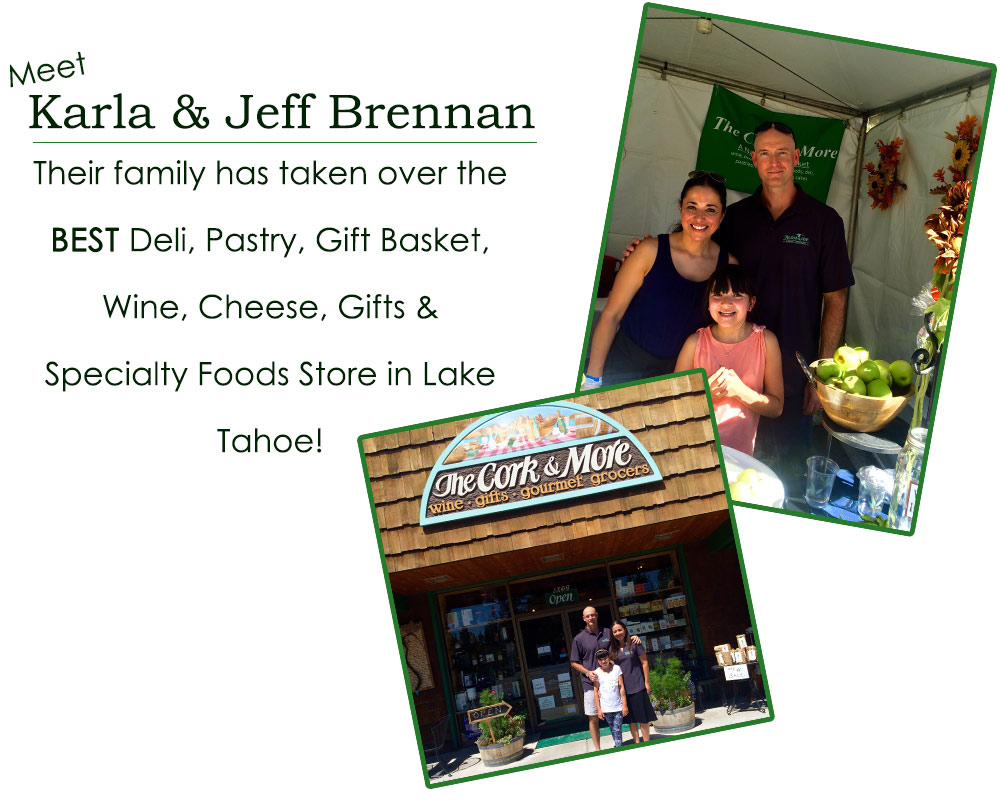 Looking for the best in wines, beers, gifts, gourmet foods, take-out delis and yummy pastries? Look no further. You can find it in South Lake Tahoe at The Cork & More.
Karla and Jeff Brennan were married in South Lake Tahoe in 2006. They fell in love with Tahoe and a bought a vacation home a few years later. They have been fortunate to enjoy much that this area ­has to offer with their daughter Jacqueline. As they drove up the mountain weekend after weekend they started to realize that they were ready to leave the hustle of San Francisco behind and raise Jacqueline in this unique and invigorating community.
The Brennans come to the area with entrepreneurial spirits. Jeff has run his own successful fitness business in San Francisco for nearly two decades. Karla spent over twenty years working for a family owned coffee roasting company in which she was intimately involved in product development. One of her more recent projects including launching a specialty line of teas. When they first started exploring The Cork and More, they saw a wonderful business built with passion and a commitment to customers and community. They immediately knew that this was a place they wanted to be a part of.
Before taking over the business, the Brennan's had the opportunity to spend a great deal of time at The Cork and More.  It was immediately evident that the store has a loyal following of customers that want to see the business survive and prosper. Their goal is to keep things the same as much as possible while adding some of their own touches along the way.  They know that the success of the store is in large part due to the dedicated employees who work there. They are very pleased that the entire team would like to stay with them as they embark on this new adventure.
The Brennan family would like to invite you in to The Cork and More and encourage you to introduce yourself. They welcome your ideas and feedback as they are whole heartedly committed to providing an exceptional customer experience for everyone that enters the store.